15/03/2021 - People with disabilities enter the Belgian Constitution
The Belgian Disability Forum (BDF) welcomes the adoption by the House of Representatives of the new article 22ter. The right to inclusion of persons with disabilities is now protected by the Belgian Constitution.
The text voted by a large majority on 11 March 2021, is as follows:
"Art. 22ter. Every person with a disability has the right to full inclusion in society, including the right to reasonable accommodation. The law, decree or rule referred to in Article 134 shall guarantee the protection of this right."
For the BDF, this is the culmination of a very long period of work, which began in 2002.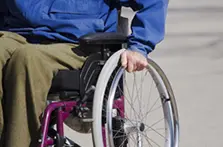 Belgium has formalised in its constitution one of the main elements of the UN Convention on the Rights of Persons with Disabilities (UNCRPD). People with disabilities have the right to participate in all aspects of life in society. In addition, where necessary, reasonable accommodation must be made to enable their inclusion.
This inclusion in the Constitution will have consequences in law. Until now, the Council of State and the Constitutional Court have used general articles to prohibit discrimination on the basis of disability or the restriction of rights for people with disabilities: Articles 10 and 11 on equality, Article 22 on privacy, Article 23 on economic, social and cultural rights, etc. A specific reference in the Constitution will give an additional legal basis to the judge to condemn limitations imposed on persons with disabilities.
This inclusion in the Constitution will also lead the legislator to identify the way in which it wishes to act in order to make inclusion effective: building accessible social housing, setting binding rules in the context of employment, raising the level of benefits, systematizing sign language in the relations with public services, etc.